Top 5 Best Dog Winter Coats & Jackets that Is Lightweight yet Snug
When you wake up and the cold hits you - winter holiday is coming! You may begin celebrating, singing and bundling up for both you and your furry friends. Some dog owners will ask: Does my dog need a coat? If the temperature is around the 45°F or lower, it's definitely time to put dog winter coat on your dog, particularly for those who have short fur when heading to a dog park or having a long walk.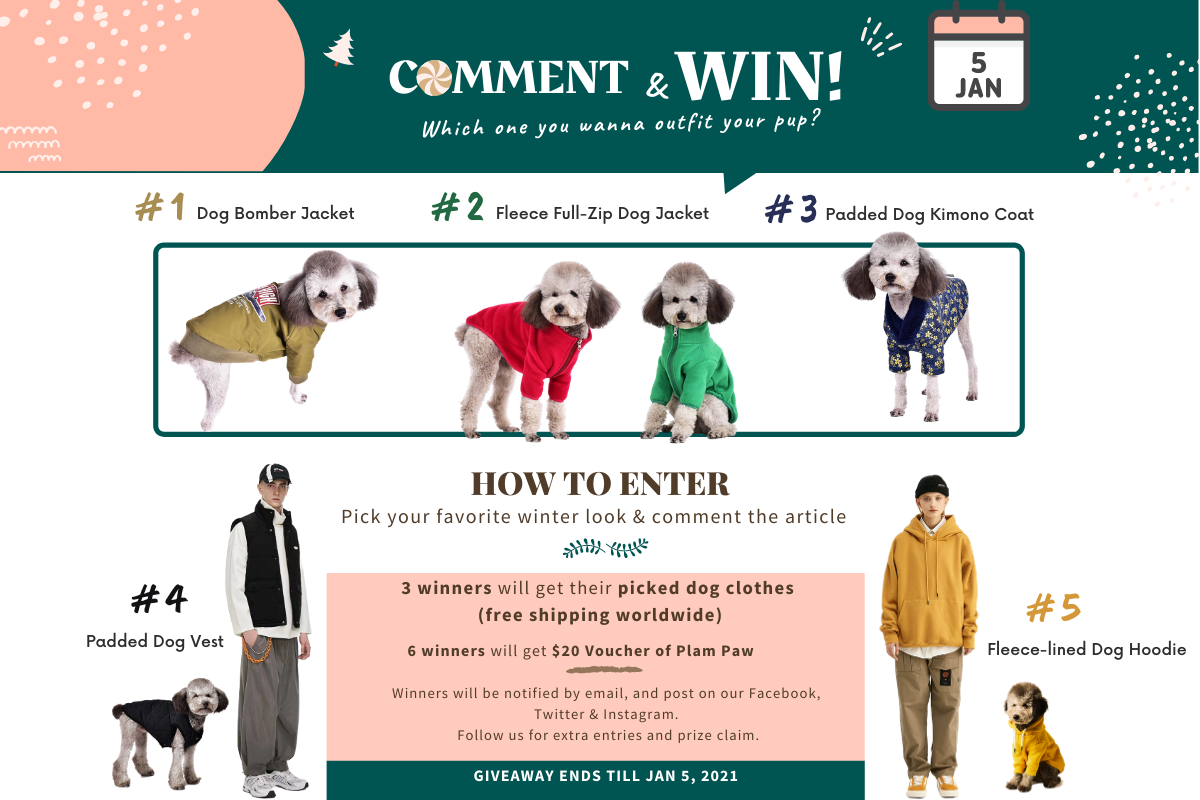 How to not let the cold weather affect your style is a big deal not only for chic hooman but also for chic dog. Without further ado, we've put together a list of our top three best dog winter jackets and coats, plus two matching outfits for dog and owner to twin in during winter months. It's worth mentioning that the following all dog winter coats come in 6 sizes from XS to 2XL.
#1 Dog Bomber Jacket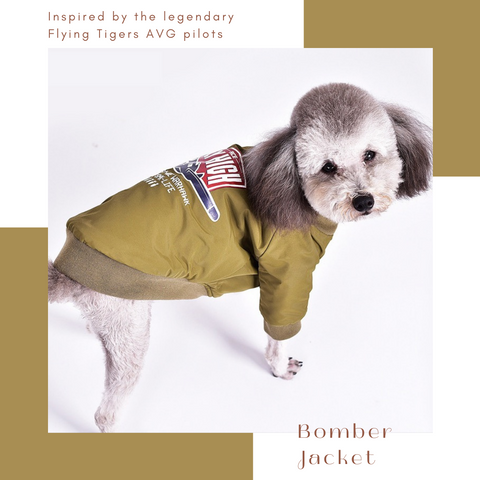 The journey of life is pawsome traveled with a dog. So if dog is your co-pilot, would you love to outfit your canine companion in this super cool dog bomber jacket with vintage styling? You'll be ready for wonderful winter adventures while exploring the great outdoors or simply having a couch-surfing together.
Made with updated durable nylon twill for the outer and padded with top-quality cotton, this dog bomber jacket is light-as-air but is capable of keeping your dog comfy and toasty. Burnished snap button fastenings are super easy to put on and take off. Inspired by the legendary ACE pilots, it is a new take on the flight jacket silhouette. The jacket comes in three colors olive, black and red that are classic and timeless on their own.
Check out Dog Bomber Jacket >>
#2 Fleece Full-zip Dog Jacket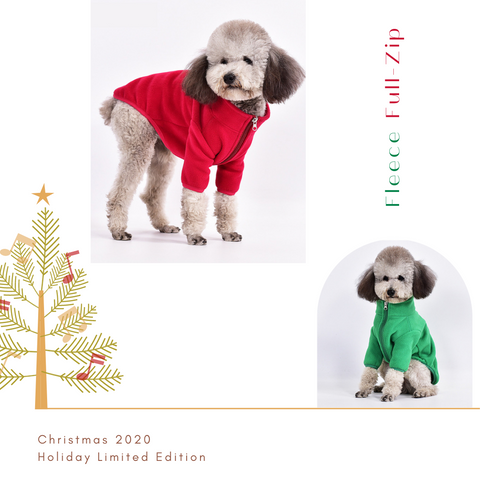 Wrap your dog up in fluffy fleece for the upcoming Christmas! This fleece full-zip jacket is holiday limited edition available in green and red only. The clean lines give it a bit sporty look that is pawfectly cheerful and vibrant for holiday vibes.
Crafted from ultra-soft fleece, this jacket is as cozy as your favorite sweater and provides just the right amount of warmth for cold, windy days outdoors or ultimate comfort indoors. Some dogs won't accept wearing Christmas sweaters due to the compression. Built with great comfort in mind, it designed with a roomier fit for easy movement. The front zipper makes it better off to put on and take off than dog sweater.
Check out Fleece Full-Zip Dog Jacket >>
#3 Padded Dog Kimono Coat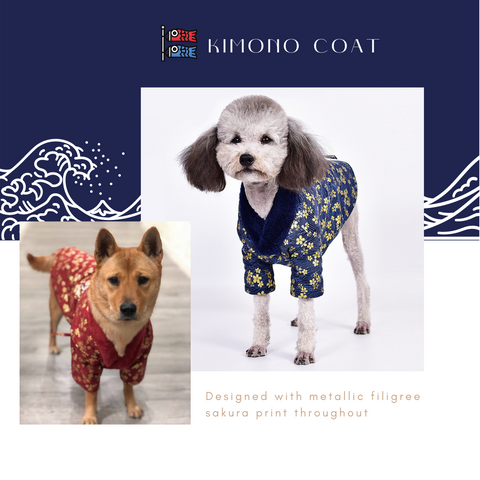 Konichiwa - look what I'm wearing! It's a dog kimono coat, hooman. To celebrate Japanese New Year, many people choose to dress in formal wear like gorgeous kimono and go to shrines or temples to pray for happiness and to receive good luck charms. If you have a passion for Japanese culture or have every intention of dressing up with exotic costumes to ditch the ordinary, this padded dog kimono coat will be a great choice for a unique winter holiday experience.
Ornate and chic, this kimono-style coat is decorated with metallic filigree sakura print throughout that add a sparkly touch to stand out your furry fashionista's look. Padded with Japanese organic cotton, it's not just a stylish dog coat but versatile enough to keep your dog warm, comfy and eye-catching for safety during walks in the cold weather.
Check out Padded Dog Kimono Coat >>
#4 Matching Padded Vest for Dog & Human Unisex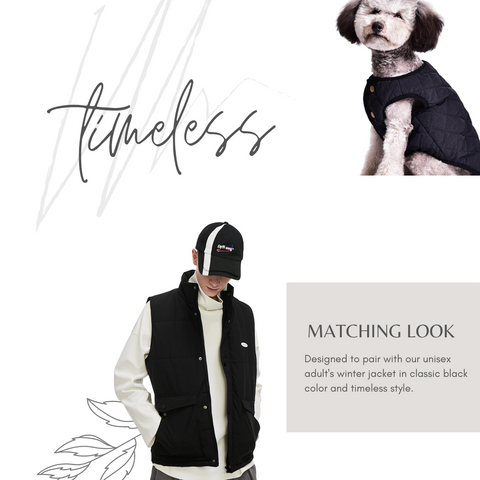 Nothing says "I love you!" like matching outfits. Lightweight and warm, this padded dog vest is designed to pair with our unisex human fashion in classic black color and simple style. Enlightened by Japanese design and Nordic heat-retaining tech, it allows your dog to play while looking and feeling good. "It did not come off once and he didn't look uncomfortable but instead loved the attention from fellow hikers." One Palm Paw member wore the matching padded vests with his dog on a hike recently, and liked it greatly. And this vest pairs wonderful from a tee on warmer days, to a sweatshirt or hoodie when getting colder.
Check out Matching Padded Vest for Dog & Human Unisex >>
#5 Matching Fleece-Lined Hoodie for Dog & Human Unisex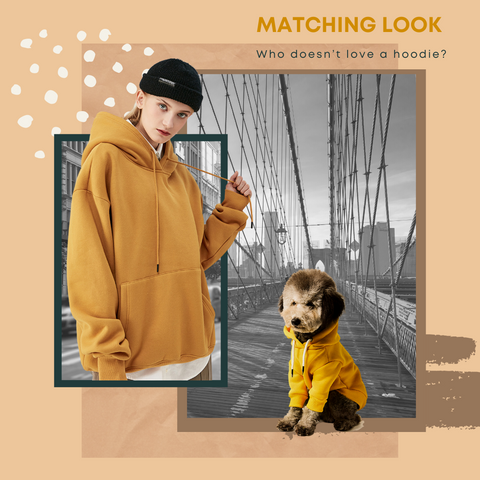 If you're a hoodie lover of simple but stylish design, this matching hoodie might be exactly what you're looking for. Featured with an adjustable windproof hood and ultra-soft lined fleece, it is pawfect for the outdoors. Like its two-legged counterparts, the design of this dog hoodie has understated, delicate details including a ribbed cuff and hem, well-knit drawstrings, and a kangaroo pocket on the back that is able to carry around dog toys. With yellow, red and green three colors to choose from, it will be wardrobe staples for you and your furry friend to wear out and get the neighbors and dog walkers staring a little too much.
Check out Matching Fleece-Lined Hoodie for Dog & Human Unisex >>
Be into what you see? View the entire dog winter lifestyle range at the link below:
https://www.palm-paw.com/collections/best-dog-winter-coats-jackets-collection-2020