How to Safely Celebrate Halloween Pawty for Pets and Their Parents
Countdown has begun for Halloween 2020 - it is probably going to look very different this year for many due to the ongoing COVID-19 pandemic. Having a festive fun yet safe time with your furry quarantine companion is still possible. Below we've rounded up the top three Halloween ideas to get your dog or cat involved in your fall-friendly, social distanced pawties and activities.

#DIY Halloween Treats Your Pet Can Eat
Having a few bottles of pumpkin spice on the table is all the rage as a tradition during Halloween and the fall, and if you wonder your fur baby is jealous that he/she can't indulge, you're probably right. So make the most of this Halloween as an opportunity to share the pumpkin spice love with these peanut butter and pumpkin treats that are full of pet-healthy ingredients and flavors they love. They're also made with pantry staple ingredients most families almost always have on hand. Plus it is super cute to use some molds like paws, bones and any shapes you like.
Learn More about How to Make Pumpkin Spice Dog Treats
#Enter Your Pet in Virtual Halloween Costume Pawties
You may still want to show off your fur baby with an entertaining costume at costume pawties via Zoom, a socially distant walk around the neighborhood or a spooky photoshoot to win a virtual Halloween costume contest.

No matter what you decide to celebrate Halloween virtually this year, help your fur baby embrace his or her spooky spirit with one of these super cute and funny Halloween costumes for dogs or cats or for both pets and owners to twin in with the best matching costumes.

Be sure to skip the scary pieces that make loud noises if your pet isn't used to costumes or clothing. You may be able to take full advantage of your wardrobe and change everyday wear to you and dog's matching costumes.

1. Super Mario Bros Halloween Costumes
A month ago Nintendo marks the 35th anniversary of Super Mario Bros. Pet owners who are fans of Mario Kart, Super Smash Bros, or the original Mario video games will surely love the opportunity to dress up you and your pet as their beloved digital plumber Mario and his younger fraternal twin brother Luigi.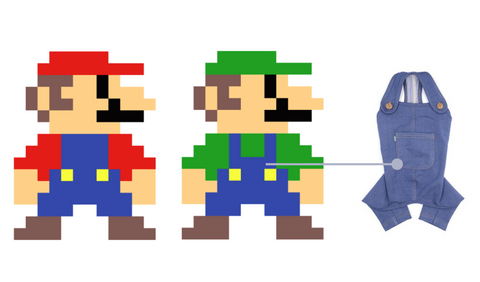 >> Check out our Stretch Denim Dog Overalls versatile for costumes & everyday wear
2. Bumble Bee Matching Dog and Owner Costumes
Does your dog buzz around the house without a care in the world? Then there's not much else you can do but get your pet ready to lead the life of a bee. Though murder hornets are so May 2020, bees are forever.

Your fur baby will look as sweet as honey in the bright yellow and black striped T-shirt. And far more sweet is wearing the same black yellow striped shirt with your sweetie! Also, you can DIY or shop bumble bee headbands on Amazon to make great add-ons for your costumes.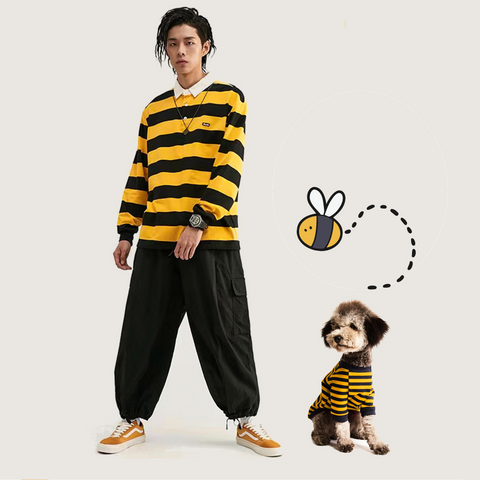 >> Check out our matching dog and human black and yellow striped T-shirt to look just like a Bumble Bee
Your fur baby will, undoubtedly, be cute as ever in their costume. Dogs or cats do not like sitting still so staged photo shoots in costumes might be a little bit difficult for them. However, you can capture all the fun on the go.
#Halloween Movie Marathon
Curling up on the couch and watching Halloween classics that feature dog and cat characters: The Nightmare Before Christmas, Scooby-Doo, Frankenweenie, and Hocus Pocus, to name a few. Plus, this is the pawfect Halloween activity for pets who want to pass on the trick-or-treating hubbub.