Hoodie season is coming: Matching Hoodies to Twin with Your Pooch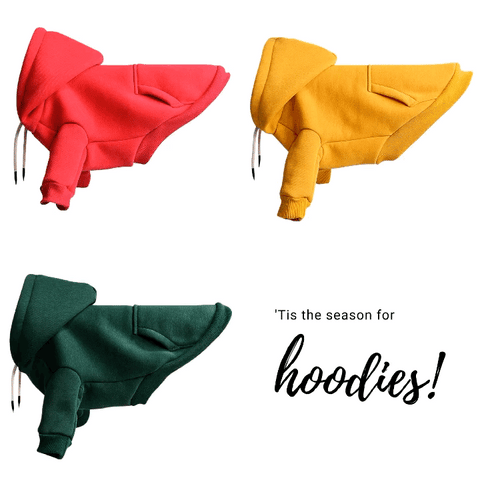 Just in! Introducing our latest matching dog and owner hoodies collection designed with drawstring, kangaroo pocket etc. classic details: windproof, comfy, lightweight and always in season.
Made of ultra-soft fleece lining for dogs who may just want a little extra comfort and warmth in late fall and winter. When the weather turns chilly, it will be wardrobe essentials with thick, stretchable yet breathable material works best for at-home or daily walkies or adventures in the great outdoors.
Coming in three colors - red, yellow and green that makes it a great fit for the upcoming festivals of Halloween and Christmas. Plus, pawfect for those who love simpler look of block colors and are looking to match with their beloved four-leg friends.
>> Check out our matching dog and owner hoodies now
Useful tips when shop dog hoodie to twin in
Certainly a great fit is top priority to feel comfortable, which will make sure your pup be capable of free and easy movement. So we encourage everyone to measure out the chest, the length of your dog and compare to our size chart before grabbing the dog hoodie. If your dog is between sizes, it would be better off to opt for the larger of the two.
Thickness and softness of the hoodie materials can also make a huge difference in the comfort. Dog hoodie added with a fleece lining to layer up for winter is ideal, especially for those who are based in a colder climate. As a result technical micro-fleece and ultra-light fabric that feels just like a soft throw blanket will keep you and your pooch surprisingly warm and toasty without any bulkiness.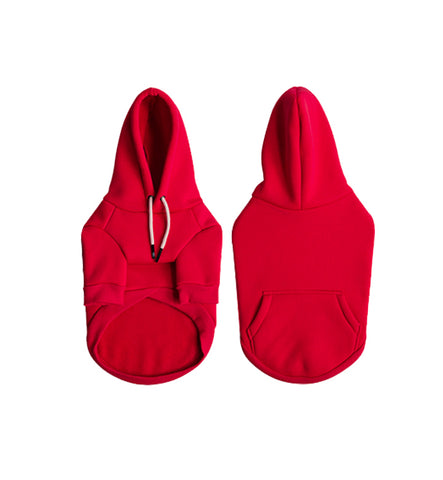 Dog hoodie can also vary in shape from oversized, fitted, to even cropped. You'll also want to consider some smaller details, like kangaroo pockets that are able to carry around dog toys, removable hoods, and opening neck compatible with dog leash/harness.
Dressing up your furry companion can simply be fun, while wearing matching dog and owner hoodies will be extra-fun and stylish in any occasion. But atention guys, hoodie stealing season is coming up. This time at least your dog's hoodie won't been taken. Woof woof.