Brace Yourself: A Guide to Prepare Matching Dog Clothing for Winter
Do dogs need to wear clothing for winter, or how cold is too cold for dogs? In general most dogs are able to tolerate temperatures at or above 45°F pretty well. Though there are still many factors can affect how your dog responds to colder weather, such as the breed, size, health condition of your furry companion, it would be much better off to wear dog winter clothing when the temperatures start to fall below 45°F.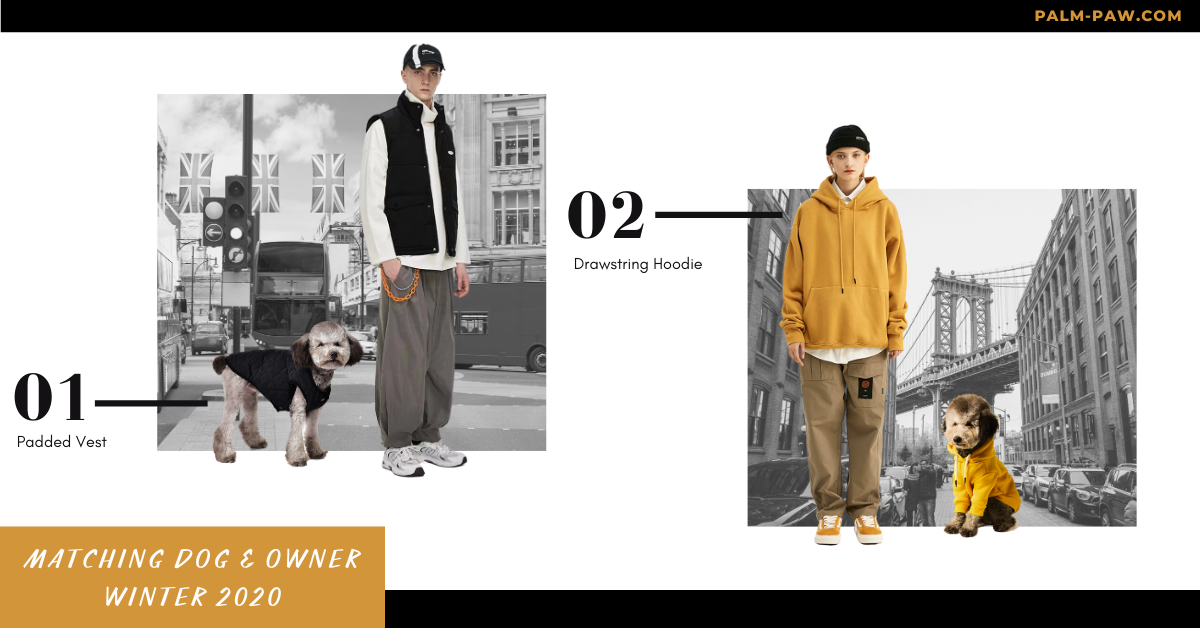 November has arrived! Brace yourself, winter is coming - there's no reason to dread the season. One good thing about the temperatures dropping in cold areas is that both you and your four-legged friends get to create a whole new look. So say hello to our Matching Dog and Owner Winter 2020 lifestyle range, including the classic drawstring fleece hoodie and lightweight warm padded vest available in variable colors for you and your dog to twin in. 
If you're an outdoor lover as well as your dog, of course most dogs enjoy walkie time whether or not you live in a cold climate, keep your dog cozy and toasty on chilly days at the dog park or hikes in the mountains with the list two looks of dog and owner matching outfits made just for cold, wintry conditions, guaranteed. 
01. Matching Winter Jacket for Dog & Human Unisex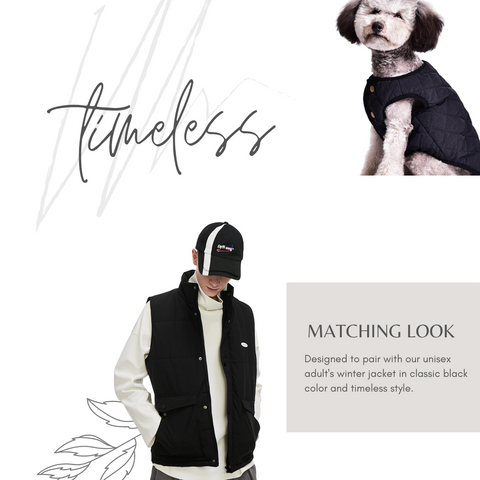 Some pups doesn't like wearing sweaters because it simply makes them feel tight and uncomfortable. Inspired by Japanese and Nordic design and heat-retaining tech, this winter jacket is super lightweight yet snug with easy-to-use snap fastening that fits almost all dogs of sizes and breeds that will gladly wear it out on walks during chilly and windy days.
Also, as a devoted matching dog and owner outfits brand, this dog winter jacket is designed to pair with our human fashion in classic black color and timeless style. Built with comfort in mind that empowers you and your furry companion ease of movement when skiing, hiking, or simply walk the dog. One Palm Paw member wore the matching padded jackets with his dog on a hike last weekend, and liked that "it did not come off once and he didn't look uncomfortable but instead loved the attention from fellow hikers."
A warm padded vest is the most versatile winter outerwear for dog and owner you'll find. It goes great with anything from a tee on warmer days, to a sweatshirt or hoodie when it starts to get cooler. Speaking of hoodie, the wardrobe essential is one of the most comfortable and practical, so that not only man and stealing-hoodie woman, but also your dog should own.
Check out Matching Winter Jacket for Dog & Human Unisex >>
02. Matching Drawstring Hoodie for Dog and Human Unisex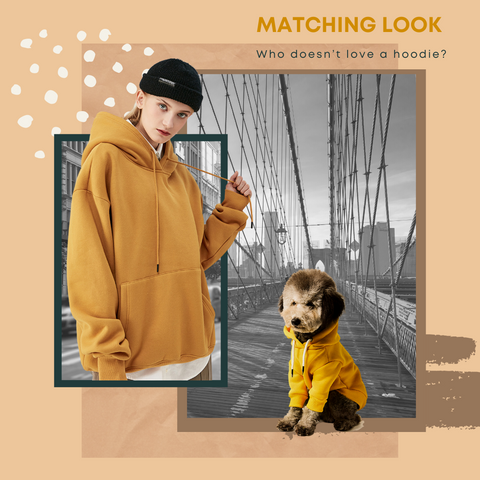 Who doesn't love a hoodie, and a dog hoodie, plus matching dog and owner hoodies? Featured with a windproof drawstring hood and ultra-soft fleece, it's more than just how totally adorable they look clad in this dog hoodie for winter and late fall, but the warmth they are provided with in such chilly seasons.
Like its two-legged counterparts, the design of this dog hoodie has understated, unique elements including a neck-opening leash portal, well-knit drawstrings, and a kangaroo pocket on the back that is able to carry around dog toys and a ribbed cuff and hem. Made from premium cotton, it is breathable and comfortable. Sized from XS to 2XL, available in red, yellow and green as well as unisex man's and woman's, making it pawfect matching outfit for dog and owner to wear out and get the neighbors and dog walkers staring a little too much.
Check out Matching Drawstring Hoodie for Dog & Human Unisex >>
Be into what you see? View the entire matching dog and owner clothing 2020 lifestyle range at the link below:
https://www.palm-paw.com/collections/matching-dog-human-outfits-collection